about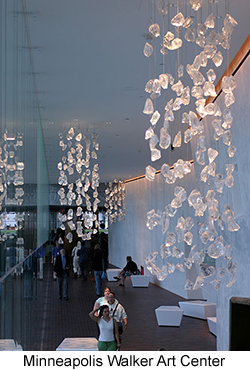 Since 1988 Goldenflow Studios reputation for high-volume production, quality work, engineering, and strict adherence to deadlines and budgets led to our selection as the artist of choice to create and produce a series of grand chandeliers for the Minneapolis Walker Art Center's $80 million expansion project. Additional installations include a large scale chandelier for the Perham Hospital as well as various private installations in historically sensitive locations such as a local Frank Lloyd Wright home restoration and the Washburn Historic Lofts.
Approach
Every glass installation created has been a design collaboration of all stakeholders. Every space has its unique parameters and requirements for "feel," and as the lead artist Dan always makes every effort to put forth multiple spatial options and solicit input throughout the process, from inception to completion. No installation was ever considered complete until the client considered it complete.
Design
Since the first large scale commission our focus with regard to hanging glass installations has been to work with large scale, organically produced clear and colored glass pieces mined from cooled molten glass pours weighing many hundreds of pounds. These pieces are then wire wrapped and suspended in a variety of arrangements giving the appearance of a cascade of large falling diamonds, or depending on the client's wishes, in more controlled shapes.
Lighting
Lighting, though traditionally achieved via external flood, can also be accomplished through controllable color-shifting internal LEDs. This form of internal Illumination utilizes independently controllable micro- LEDs mounted discretely to the top and bottom of each individual piece of glass. These LEDs would have the ability to generate a wide range of colors and respond to a variety of preset programs, as well as being programed to respond in real-time to ambient indoor or outdoor noise. This would allow any final installation's design arrangement to change colors in waves, patterns, have multiple hanging sculptures change colors in unison, and/or have different areas of any sculpture respond to the full spectrum of ambient noise as an acoustic meter.